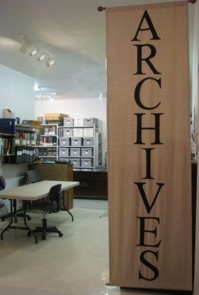 The Armstrong Spallumcheen Archives are a resource where public records, historical documents and photographs related to Armstrong and Spallumcheen are stored and preserved for use.
The Archives house a collection of the Armstrong Advertiser dating from its inception in 1902, a complete set of the Okanagan Historical Society Reports, an indexed collection of over 12,000 historical photographs, as well as past and current maps of the local area. There are files on the histories of local families, clubs, teams and businesses. The Archives library contains books about area events, history and people. Municipal records such as early assessment rolls, tax records and council minutes are part of the collection.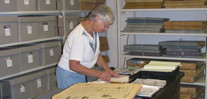 To make the collection more accessible, volunteers continue to organize and index the material. Volunteers are also responsible for processing new acquisitions and preserving current material.
Our curator and staff will be pleased to help you with basic archival enquiries if you drop in. For more extensive use of the Archives please arrange for an appointment with one of our volunteer archivists. Contact Us
Whenever the Museum and Art Gallery building is open, the Archives Reading Room is available with assistance. Some of the contents of the Reading Room are –
Histories and photos of Armstrong and Spallumcheen since incorporation.
Inventories of heritage buildings in both Armstrong and Spallumcheen.
Histories of local organizations including the Interior Provincial Exhibition.
Voters lists.
Telephone directories since 1913.
Okanagan Historical Society Reports.
Local census data from 1881, 1901, and 1911.
A newspaper clipping file
On computers in the archives there are:

Images of some of the historical photographs collection.
Indices to archival material.
Photographs of headstones in local cemeteries.
Indices to newspaper reports of births, marriages and deaths.
Material from our Archives are available on-line at:

British Columbia Regional Digitized History collection features copies of unique historical documents from participating memory institutions located throughout British Columbia including the Okanagan Valley.
   Local Newspapers are now also available at this site:
"The Armstrong Advertiser" from 1902-1963 at: https://bcrdh.ca/islandora/object/news%3A285982
"The Armstrong Advance" from 1905-1906 at: https://bcrdh.ca/islandora/object/news%3A285981