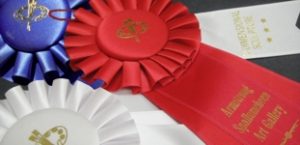 2020
 32nd Annual Ribbon Show
July 7th to August 1st.
Start preparing your entries for the Ribbon Show!
Exhibitors may submit one entry in each of the following categories:
OIL / WATERCOLOUR / PASTEL / ACRYLIC /
PORTRAIT / DRAWING / YOUTH (AGE 15-20) /
MIXED MEDIA * / ALTERNATIVE MEDIUM **
* Mixed media is two or more media on a surface, eg. watercolour and ink.
**Alternative medium is a medium beyond the categories offered, eg. mobiles, coiling, lino cut or 3D sculpture.
2020 Ribbon Show Application available soon.
2019 Ribbon Show Winners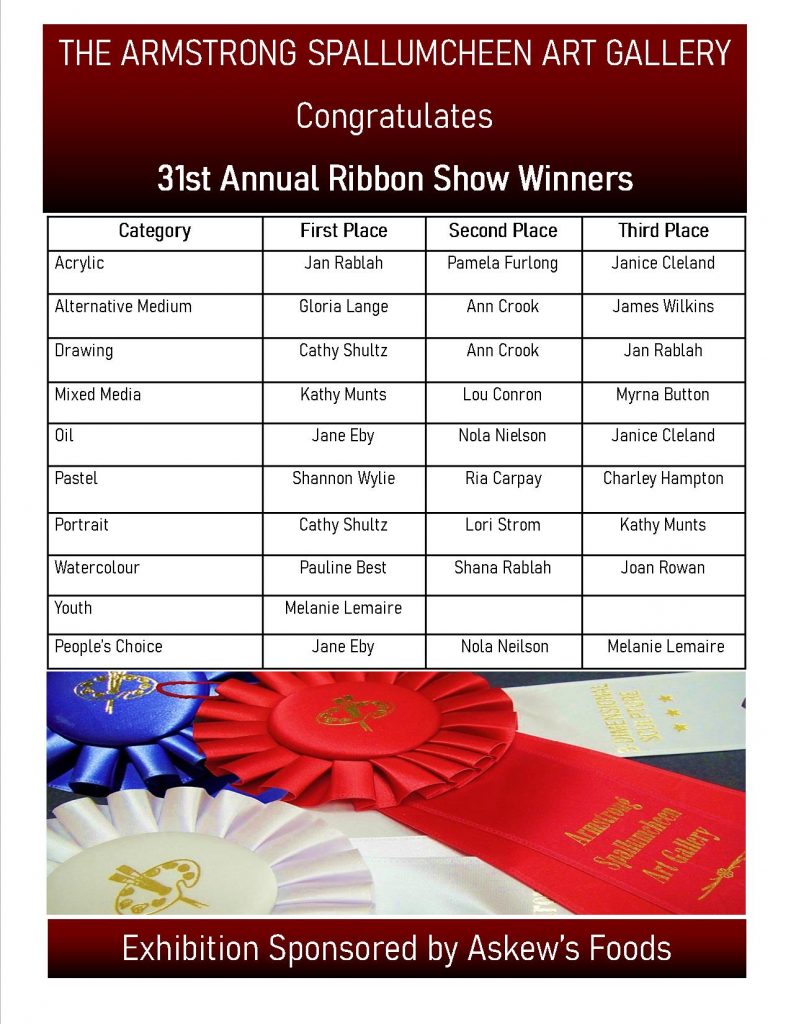 2018 Ribbon Show Winners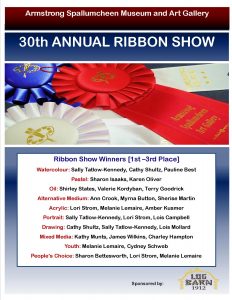 ---
2017 Ribbon Show Winners
| | | | |
| --- | --- | --- | --- |
| Category | Title | Place | Artist |
| | | | |
| Watercolour | Bucket List | 1 | Twyla Tucker |
| | Daisies | 2 | Jo Colley |
| | Camelia Japonica | 3 | Sharon Isaaks |
| Oil | River's View | 1 | Karen Oliver |
| | Beatton River | 2 | Twyla Tucker |
| | Dark to Light | 3 | Terry Goodrick |
| Pastel | Stuck in Time | 1 | Twyla Tucker |
| | Wild Snapdragons | 2 | Ria Carpay |
| | | 3 | |
| Acrylic | Coming Through | 1 | Dawn Scott |
| | Silver Star Above the Clouds | 2 | Liz McArthur |
| | Maple's Glory | 3 | Pam Montgomery |
| Drawing | Highland Cow | 1 | Sally Tatlow-Kennedy |
| | Coldstream & Kalamalka | 2 | Ann Crook |
| | On Alert! | 3 | Lois Mollard |
| Portrait | Turban | 1 | Sally Tatlow-Kennedy |
| | Lori | 2 | Marg Robertson |
| | Walpi Man | 3 | Shelly Larkin |
| Alternative Medium | Canadian Flight | 1 | Ann Crook |
| | Connections | 2 | Myrna Button |
| | Landscape II | 3 | James Wilkins |
| Mixed Media | Tiltin' Hilton | 1 | Cathy Shultz |
| | Living on the Edge | 2 | Lou Conron |
| | Time Out | 3 | Twyla Tucker |
| Youth | Fernie | 1 | Melanie Lemaire |
| | | 2 | |
| | | 3 | |
| People's Choice | Turban | 1 | Sally Tatlow-Kennedy |
| | Highland Cow | 2 | Sally Tatlow-Kennedy |
| |                  Bucket List | 3 | Twyla Tucker |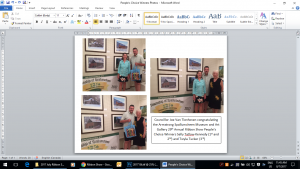 [/vc_column_text][/vc_column][/vc_row]