Archive Document Index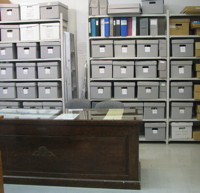 THE original documents in the Armstrong Spallumcheen Archives are stored in two groups, Family Histories and Collections. The Family Histories boxes contain document folders based on names of individuals or families, filed alphabetically. If information about a person in stored in a folder under a different name, the index below gives the cross-reference. The Collections boxes contain document folders based on the names of organizations or entities, filed alphabetically.
OUR documents are not on-line. However to determine if there might be information of interest to you in our Family Histories or Collections, we have made available an index to the document archives. Download the document index pdf file here .
Whenever the Museum and Art Gallery building is open, the Archives Reading Room is available with assistance. Anyone wishing to do more extensive archival research is encouraged to make an appointment with a volunteer archivist. There is no charge if you do your own research, however donations are appreciated.
Fees
There are charges for copying, photographic reproductions and use of ancestry.com on our computers. In addition, there is a fee for our volunteers doing extensive research. For details please click here.
Images and Items
from the Archives
at the Armstrong
Spallumcheen
Museum and
Art Gallery